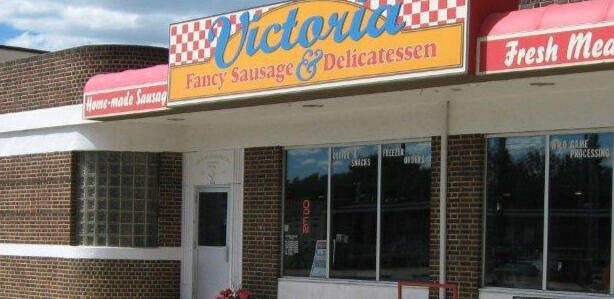 Our Products
Sausages
Victoria Fancy Sausage offers a comprehensive range of sausage meats and products. We are experts in curing and smoking and we believe no other butcher can beat us on value.Pork
Our pork products include a fantastic range of specialty bacon, as well as incredible pork chops and spare ribs. Our Pork Pack is one of our customer's favourite family packs.Beef
As a proud Alberta butcher, we offer a full range of beef products, including an extensive range of steaks, full flavour roasts, and delicious beef packs.Bison and Elk
We are renowned for our wild game processing and we have an excellent reputation for our bison and elk products.Chicken
Our roast chickens are especially popular but Victoria Fancy Sausage also offers a number of other tasty chicken products.Sandwiches
Home made and hand-prepared with 58 different meats to choose from, our custom-made sandwiches are popular all year round. Come in and try one today!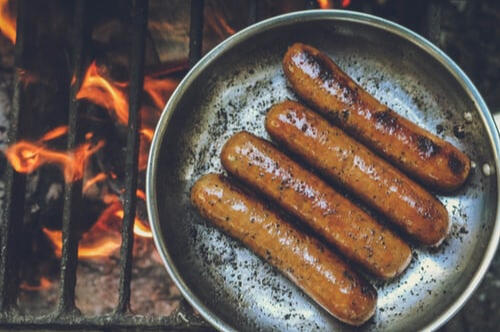 Custom Sausage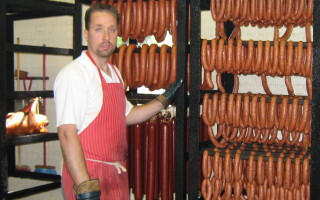 Custom Sausage
With generations of experience that includes curing and smoking, Victoria Fancy Sausage is Edmonton's most distinguished sausage-maker.
---
Hunting Season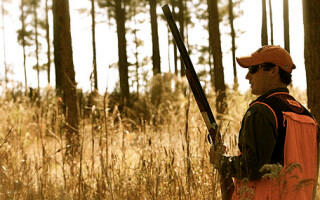 Hunting Season
Hunting season is our busiest time of year. No matter what kind of game you need butchering we will be happy to meet your needs.
---
Custom Orders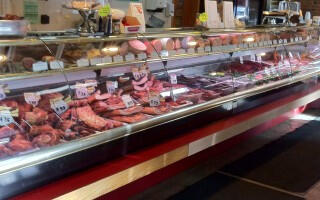 Custom Orders
Our popular value packs meet most of our customers' needs but if you have something completely different in mind we will be delighted to hear from you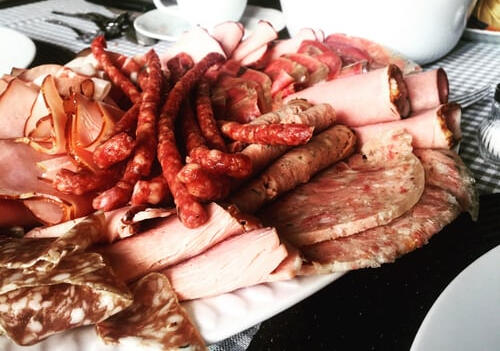 Value Packs
Mini Pack - 14lbs $75.00
2lbs Sirloin Steak
4lbs Pork Chops
4lbs Reg Breakfast Saus
4lbs Ground BeefBBQ Pack - 30lbs $270.00
2lbs T-bone Steak
3lbs Sirloin Steak
5lbs Pork Chops
10lbs Beef Patties
10lbs Rump RoastVariety Pack #1 - 27lbs $175.00
5lbs Ground Beef
5lbs Pork Chops
5lbs Bacon
5lbs Spare Ribs
2lbs Sirloin Steak
5lbs Beef StewVariety Pack #2 - 27lbs $170.00
5lbs Rump Roast
5lbs Pork Chops
5lbs Spare Ribs
10lbs Beef Patties
2lbs Ribeye SteakVariety Pack #3 - 65lbs $420.00
10lbs Rump Roast
10lbs Whole Chicken
5lbs Steak (rib & sirloin)
10lbs Ground Beef
10lbs Pork Chops
10lbs Pork Sausage
5lbs Bacon
5lbs Minute SteakBeef Pack #1 - 27lbs $165.00
10lbs Rump Roast
2lbs Sirloin Steak
5lbs Ground Beef
5lbs Beef Patties
5lbs Beef SausageBeef Pack #2 - 60lbs $380.00
10lbs Rump Roast
5lbs Sirloin Steak
10lbs Ground Beef
10lbs Beef Patties
10lbs Beef Sausage
10lbs Short Ribs
5lbs Beef StewPork Pack - 35lbs $199.00
10lbs Pork Shoulder Rst
10lbs Pork Chops
5lbs Spare Ribs
5lbs Bacon
5lbs Pork SausageSteak Pack - 20lbs $345.00
7lbs T-bone Steak
7lbs Ribeye Steak
6lbs New York SteakFamily Pack - 155lbs $999.00
20lbs Rump Roast
10lbs Steaks (T-bone, Sirloin, Rib)
15lbs Ground Beef
15lbs Pork Chops
15lbs Whole Chicken
10lbs Beef Stew
10lbs Beef Sausage
10lbs Bacon
10lbs Spare Ribs
10lbs Minute Steak
10lbs Pork Shoulder Rst
10lbs Pork Sausage
10lbs Short RibsCombination Pack #1 - 125lbs $775.00
10lbs Rump Roast
5lbs Steaks (Rib&Sirloin)
10lbs Pork Shoulder Rst
20lbs Whole Chicken
20lbs Ground Beef
10lbs Pork Chops
10lbs Bacon
10lbs Short Ribs
10lbs Beef Patties
10lbs Spare Ribs
5lbs Wieners
5lbs Beef StewCombination Pack #2 - 65lbs $399.00
5lbs Sirloin Steak
10lbs Pork Shoulder Rst
10lbs Whole Chicken
10lbs Pork Chops
10lbs Short Ribs
10lbs Beef Sausage
5lbs Beef Stew
5lbs Rump Rast
---
Wild Game Processing
De-Boning or Cut & Wrap $1.20/lbBone Disposal Fee
• Moose/Elk $20.00
• Deer $10.00Fresh Sausage $4.00/lb
• Regular Breakfast
• Maple Breakfast
• Breakfast Patties (lg/sm)
• Bratwurst
• Hot Italian
• Chorizo
• Merguez
• Mushroom
• English Bangers
• Edmonton Bratwurst
• Nurnberger Bratwurst
• Beef Sausage
• HG Fresh - $4.50/lbSmoked Sausage $4.25/lb
• Garlic Sausage
• Rookwurst
• Summer Sausage(water cooked)
• Kubbie PattiesPepperoni $5.00/Ib
• Mild / Med / Hot
• Honey Garlic - $ 5.25/lb
• Teriyaki
• Sweet & Spicy
• Cheese ($6.00/lb)Smokies $4.25/lb
• Regular
• Cajun
• Hot Italian
• Bavarian
• Cheese ($5.25/lb)
• Jal&Ched ($5.25/lb)Jerky (Fresh Weight) $5.00/lb
• Regular
• Pepper
• Sweet & Spicy
• Teriyaki
• X-Hot
• BBQ
• Pressed Jerkv (all flavours)20lb Minimums
• HB Patties ($2.50/lb)
• Wieners ($5.50/lb)
• Bologna ($4.50/lb)Grinding
• Grinding Only ($0.85/lb)
• Grind & Wrap ($1.10/lb)
• Add Beef Fat ($3.00/lb)
• Add Pork Fat ($3.00/Ib)
• Add Lean Pork ($4.00/lb)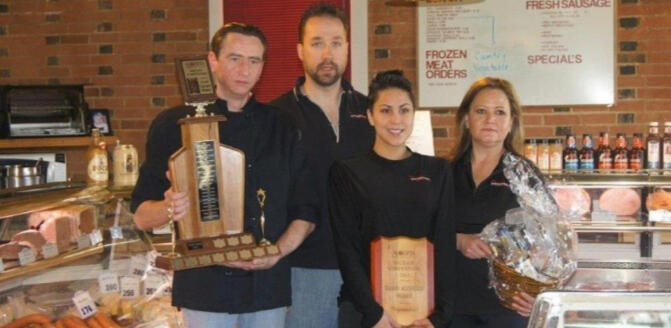 About Us
We are an award-winning butchers and sausage specialist with decades of expertise.Our HistoryVictoria Fancy Sausage has been family-owned and operated for more than 30 years. We have always been located in the historic Beverly area of Edmonton. Originally, we operated from a small strip-mall, close to the current location. But Victoria Fancy Sausage soon outgrew its modest beginnings and relocated to the old Number Seven Fire Hall where it operates today.Open Monday through Saturday, no other Edmonton butcher is as committed to providing friendly and efficient service as we are. From our deli foods to our meats, our customers rely on us for the tasty mix of tradition and versatility. We look forward to meeting you as you sample our delicious products.Our ServicesVictoria Fancy Sausage's services are founded on the its innovative recipes and the traditional tastes of our customers.We always begin with quality animals that are locally sourced. And we end with products that we believe no other Edmonton butcher can match for flavour, quality and price.Our large storefront offers an incredible range of options, including fresh cuts, sausages, smoked meats, jerky, cheeses, hot and cold meats, and groceries. No matter what you are looking for, Victoria Fancy Sausage will meet your needs.The staff at Victoria Fancy Sausage are always happy to assist you with our special services, including custom curing and smoking and wild game processing. When it comes to these special orders, Victoria Fancy Sausage offers competitive prices and a speedy turnaround to meet our customers' needs.Victoria Fancy Sausage has a first-rate reputation for value. This is especially true of our freezer packs that will satisfy any family's needs.Whatever brings you to our store, be sure to sample our homemade soups and sandwiches while you are here. With 58 different meats to choose from, Victoria Fancy Sausage is the only Edmonton butcher to offer our incredible range of flavour combinations.
Contact Us
Send us a message below and we'll reply within 1 to 2 days during regular business hours.- Monday, 9am - 6.00pm
- Tuesday, 9am - 6.00pm
- Wednesday, 9am - 6.00pm
- Thursday, 9am - 6.00pm
- Friday, 9am - 6.00pm
- Saturday, 8.30am - 5.00pm